I've been writing a couple of 'not-so-happy-posts' now. So I decided to make this one a happy one. The thing is, New Year is coming (no news), and I get really romantic about fresh starts and new beginnings. So I try celebrating it in every little way possible.
The year-end is always my favorite time of the year. There's looking back to the happenings of the last year and filling your mind with memories-both good and bad. There's Christmas! I love Christmas. There's excitement about the new year and new year resolutions (which I follow for like 3 solid days!) And then there's my birthday! So the culmination of the year is always beautiful. 
The thing is, life goes really fast. We rush past so many minutes and seconds that we never realize the importance of that moment. By taking time to reflect, even once a year, we slow things down. At the year end, it's important that we take one sigh and stop, and acknowledge our achievements so far before again plunging into the battle.
For me, 2015 was a year of highs and lows. As the old retires and the new one is born, let's all focus on all the good moments we've been a part of, and look not for our flaws… but for potential. 🙂
So here goes my list:
"Scars and Souvenirs"
As I wrote earlier, 2015 has been a year of ebbs and flows. I've had some great moments- best ones so far, but I've even gone through some worst moments of my life. By my worst moments, I don't mean academics (as you may be thinking after reading my last post). I've seen my loved ones suffer to such an extent that I feared I might lose them. But, going through the 'lows' have made me appreciate the 'highs' even more.
"Change of Heart"
This year, my goal changed. I changed my plan from pursuing an MBBS degree to doing something else, which is literally a big thing for me! When I was in class 4 or 5, I decided I would become a doctor. But little did I know what it takes to become one.
Biology is my favorite subject. And I'm not afraid of blood or dissection. And I have long fingers (they say it's a good sign if you have long fingers. It means you can make a good surgeon. Weird? :p) So I really believed I was born to become a surgeon (a neurosurgeon, specifically, practicing in the United States!).
But honestly, I have seen that this entire MBBS course kills the love of biology in students, because of the over-hectic course. I don't want that.
But this isn't the main reason. The main reason is that I want a profession wherein I get to use my creativity and ideas. I want to switch courses from time to time, and not study just one subject my entire life. That would be so monotonous and boring. I want to experiment with myself. I want a job wherein I get to reinvent myself time and again. I want to do something that makes me happy (like writing, maybe?). I want something that offers new challenges every day.  I don't know what it is yet. But I hope I'll figure it out soon.
It feels great actually. Earlier this year, I had worked out a plan for my entire life-which course I would choose, which college I would go to, where would I do my internship, where would I treat my patients, where would I go for holidays, and so on. :p But now, I have no plans. I don't even know where would I like to be after a year. I don't know what I'm going to do in my life. The only thing I'm doing is waiting for the universe to give me a signal. And honestly, I'm enjoying this phase.
"Physical Attraction, Chemical Reaction"
Okay. Nothing like that. It's just that the name is perfectly fancy for this content.
On December 17 this year, I attended an event at Sri Ram College of Commerce, DU. It was basically a candid conversation of Sundar Pichai (Google CEO) with the students. And he influenced me to a great extent. Never before have I attended an event as great as this. During the entire event, I closely observed Sundar Pichai- the way he entered (with a plastic water bottle in his hand), the way he was dressed up, the way he was talking. It didn't seem as if I was looking at the CEO of one of the most successful companies in the world. I was impressed by how understated he was- no grandstanding, no come-look-at-me. He wasn't that handsome or charming, but I was attracted to him because of his simple, humble and modest personality.
There are a lot of things I learnt from his life. And the least I want is a personality like his. For now, I too want to live a simple life. My dad always says the same thing. There's no point making use of all luxuries at this age. A little struggle always bears fruits. And I guess that's the first step to doing something great, something productive, and something inspiring in your life.
And Sundar Pichai earned a great fan this year. He now is my inspiration. And that event was, I believe, the universe signaling me to chase my dreams and take risks and to never go for MBBS. :p (Sometimes, I think that I think a lot, isn't it?)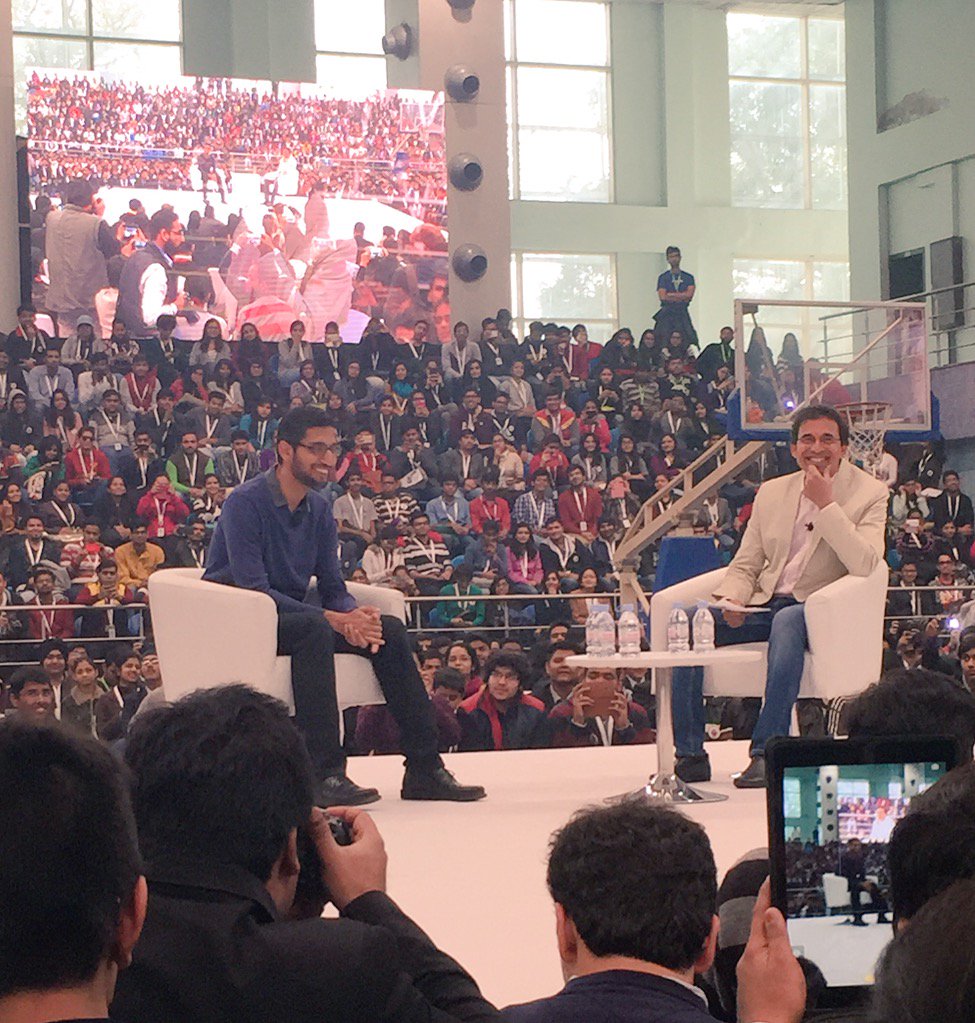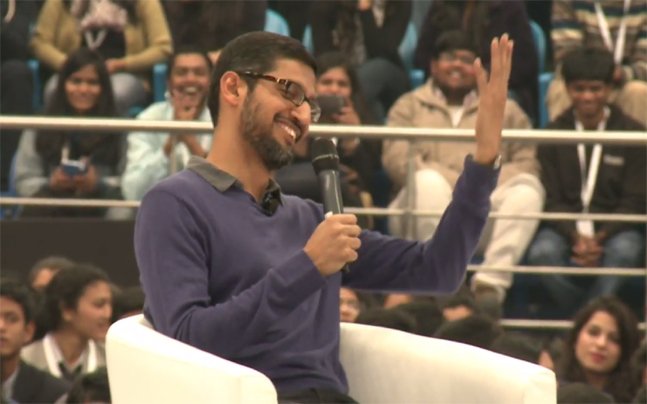 And the 360 degrees selfie (amazing, right?):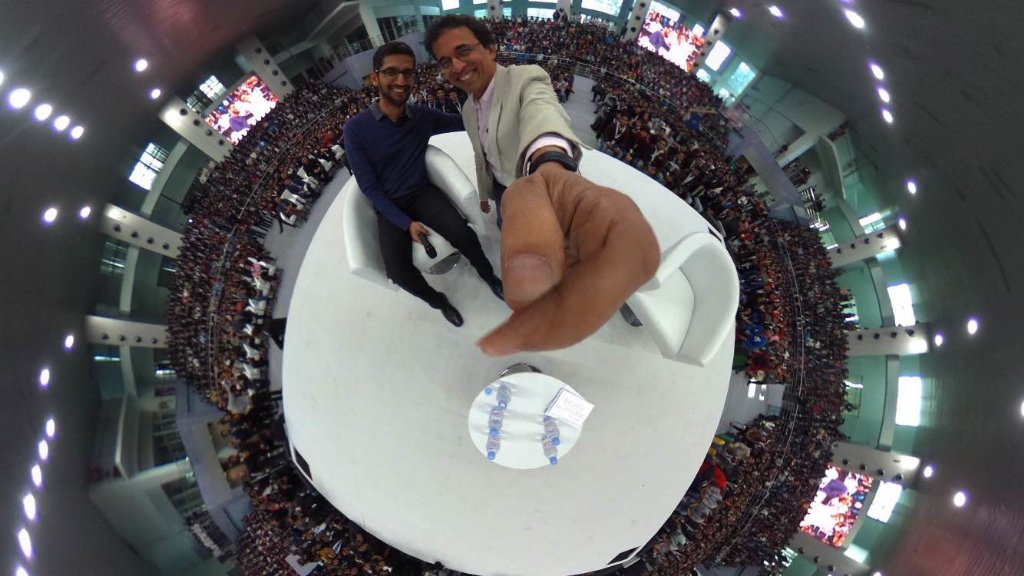 You can check out the interview here.
"Get Up, Stand Up"
One more important lesson I learnt this year following some personal experiences is that no matter who is next to us, parent, sibling, friend, lover, they should never try to impose themselves on us, contain us, become our glass cage. Because when we shatter that glass into pieces, it will make a sound, it will be painful and messy, and we might just not bother to pick up the pieces, leaving them behind just to remind us of whom not to become again.
"These ties that bind"
Life is always beautiful when you cherish your human connections-family and friends.  This year, I surely expanded my friend circle, but my bond with my closest ones grew even stronger. And I hope that it grows even stronger in the coming years.
And one more:
   6.   "Almost Grown"
Special day today- I turned 17. One more year to go and whoooshhh- I'll be 18! And today was magical. Today was totally different. And spending quality time with friends and getting involved in mischievous stuff at school (can't disclose) made my day. 🙂
___
I always think of New Year's Eve as a unique kind of magic where the past and the future exist at once in the present. And as we countdown to it, we're sharing the burden of our past, and committing to the promise of future. That's the beauty of the year-end.
Happy New Year!
And always remember- The best is yet to come!
So, what's your list? 😉
YK